Gov. Aliyu Wamakko of Sokoto State on Wednesday pledged to offer quality representation at the Senate, if elected. Wamakko, who is contesting under the All Progressive Congress (APC) to represent Sokoto West, made the pledge in an interview with newsmen in Sokoto.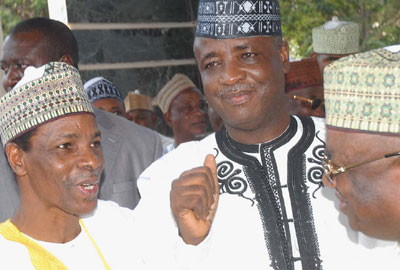 "I am aspiring to become a senator not to get money or buy new cars for myself and my family."Rather, my main aim is to go there as a senator for the entire country and work towards bettering the lives of all Nigerians,'' he said. The governor expressed support for resource control and devolution of more powers to states and local governments in the country.
"Entrusting more power of resource control in the hands of the Federal Government will not enable states and local government areas to implement laudable policies and programmes that will improve the well-being of the governed. "I will come out with a strong legislation that would enable states and local governments to have sufficient allocations from the Federation Account to ensure massive rural development," he said.
The governor criticised "the huge expenditure on security" by the federal government, saying it had not made the desired impact on national security. "The state governments are assisting security agencies in their states with vehicles and communication gadgets, what happened to the federal government's budget on security matters.
"I will ensure strict compliance on budget implementation in this direction, so as to ensure good democratic governance in the country," he said. According to him, strict application of budgetary provisions is necessary so that Nigerians will feel the impact of government.
He urged eligible voters to collect their permanent voter cards so as to elect credible leaders in the forthcoming polls. "As progressives, we must shun all kinds of violence before, during and after the March general election.
"APC-led administration at all levels in the country will address the yearnings and aspirations of Nigerians by ensuring good governance. "We will ensure provision of potable water, electricity, health care services, and enhance support to agriculture, security, education among others, if elected," Wamakko said.